eze999
Godfather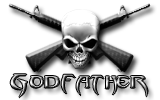 Number of posts

: 2198


Age

: 34


Warning

:



Personalized field

: aka Knighteleven


Points

:



Registration date :

2007-10-11

Subject: How lucky we really are.... Sat Aug 13, 2011 9:06 pm

---

The Way Bobby Sees It is a gripping documentary about Bobby McMullen, a competitive mountain biker on a mission to race the most demanding downhill course in the country. Adding to the difficulty: Bobby is legally blind.

With the help of a guide and a rigorous training schedule, Bobby is determined to race his bike down a course riddled with obstacles and flanked by steep, life-threatening cliffs. But, the racecourse isn't the only challenge in Bobby's life. Between thrills, spills and jaw dropping helmet camera footage, we see how Bobby uses humor, determination, and unshakeable optimism to battle adversity - both on and off the bike.

To contact Bobby, please visit:
www dot rideblindracing



________________________

CarbonGear was founded on Thu Oct 11, 2007 6:42 pm, and today it`s exactely 5425 days old. Until now 6311 users wrote 37471 posts at 45 single forums. You (Guest) wrote 4 posts since you registered ().